Minimal. Notes + Writing.
---
A meditation-inspired notes app. Featuring the Note Lifetime, Markdown-style formatting, and todos.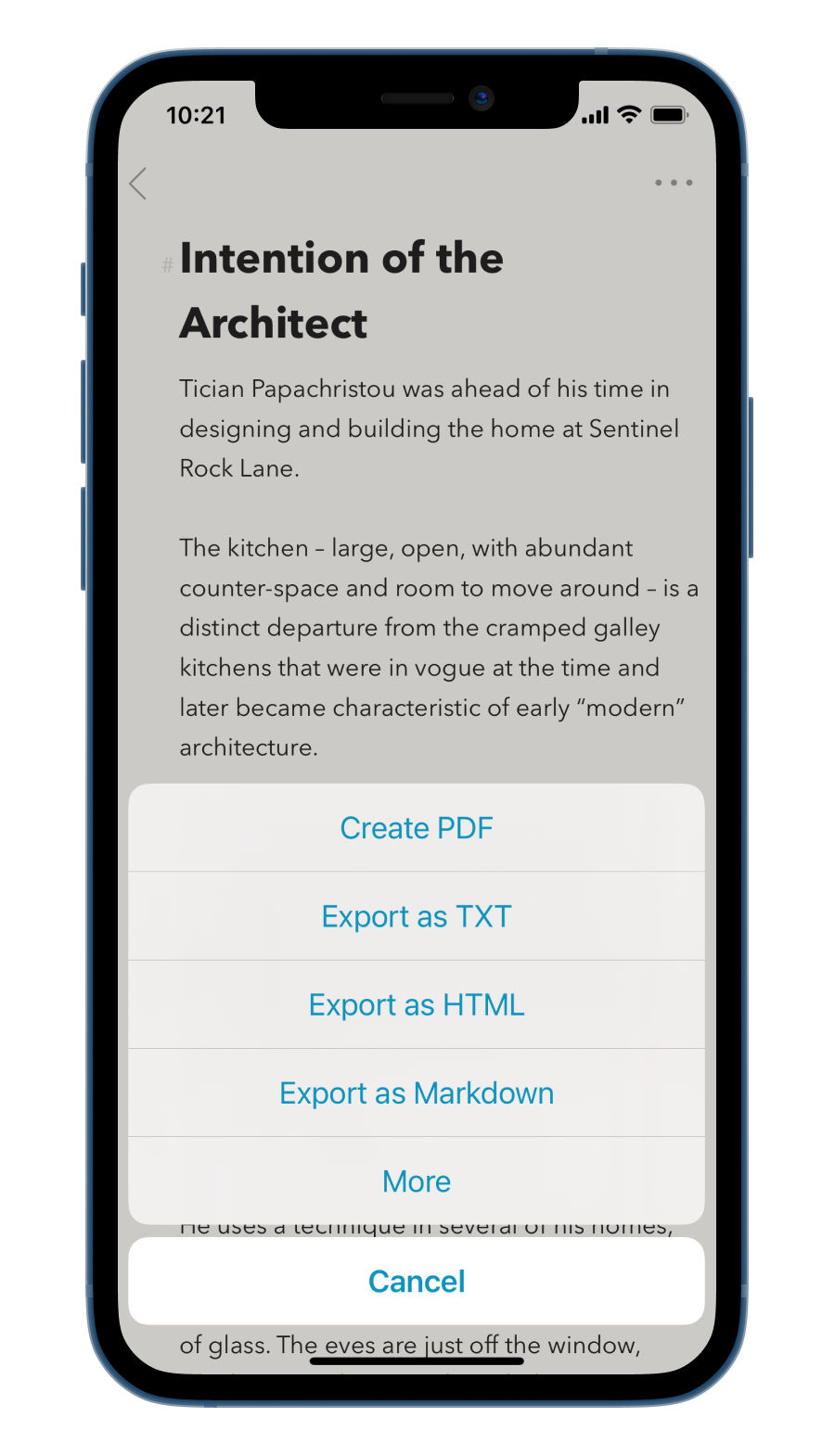 Note Lifetime
By letting notes die, your notebook becomes spacious, uncluttered, and reflective of the present moment. You're also more likely to act on the things that matter to you.

When a note goes unedited for a duration you choose, it automatically moves to the trash. To keep a note alive, pin the note or make an edit.

You'll receive a notification when a note approaches the end of its lifetime. This is an opportunity to review the note, act on it, or let it go.
---
Beautiful Formatting
Minimal provides intuitive, Markdown-style formatting that subtly brings your notes and prose to life.

Headers deliver spacial, almost-hierarchical organization to a note. Lists make key information readily available. Pull quotes and block quotes separate and highlight prose. Links are automatically tappable.

Minimal includes serif and sans serif typefaces, beautiful yet gentle colors, and typographical rules for an optimal reading + writing experience.
---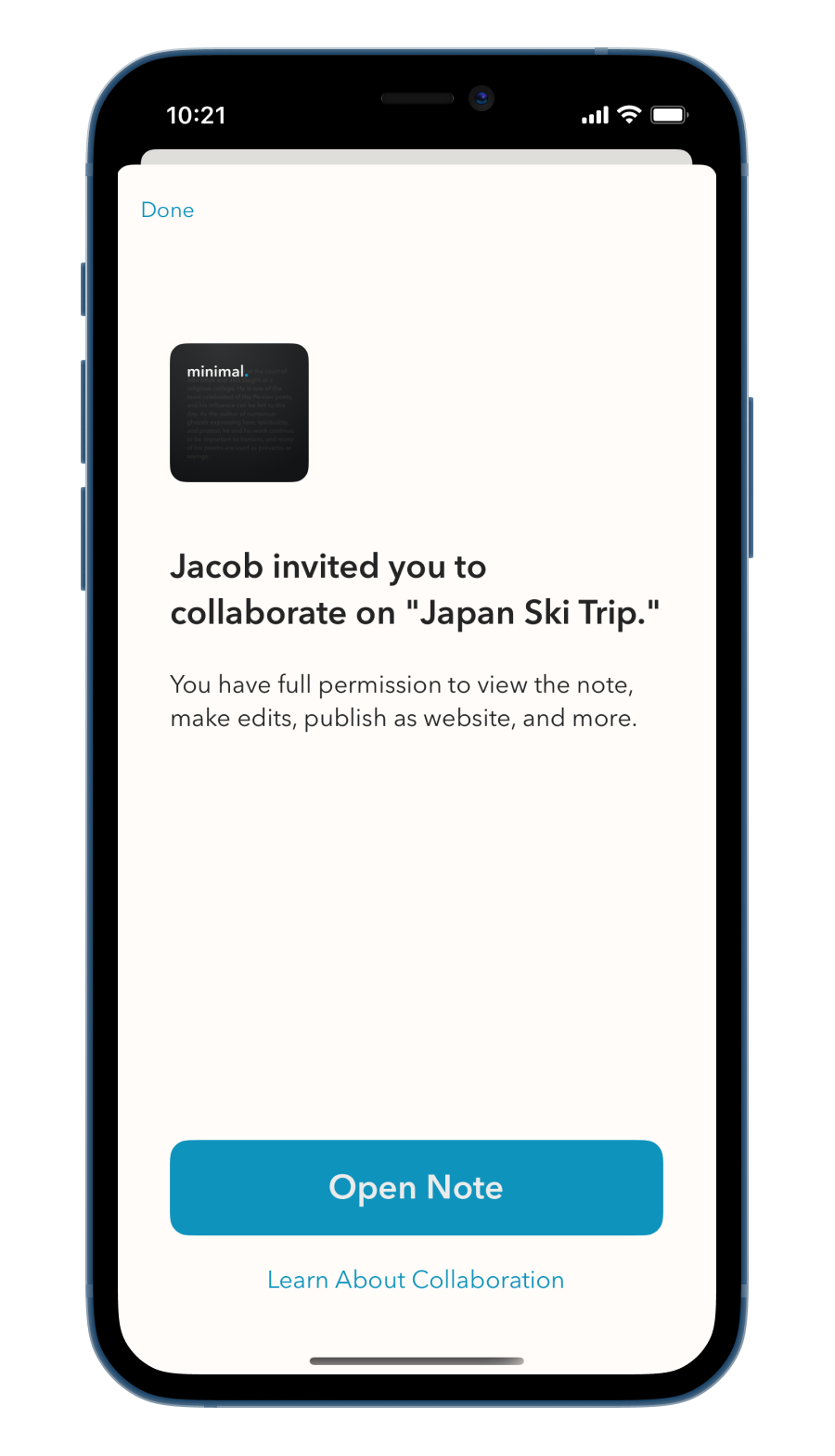 Todo Lists
Our projects live within Minimal. From personal goals including cultivating a strong yoga practice, to professional tasks like building the Sencha and Matcha tea apps, every step of the way is elegantly managed with Minimal's todo lists.

Minimal is designed to honor everything that we invest in our goals: the initial intention, the action process, and the moment of self-reflection at the end when we cross things off our list. Each part of the process matters.
---
Add Todos to Calendar
Sync todos to the Calendar app by highlighting the todos and tapping "Add to Calendar."

Alternatively, for notes with eight or fewer todos, tap the action button in the top right corner, then "Add Todos to Calendar."
---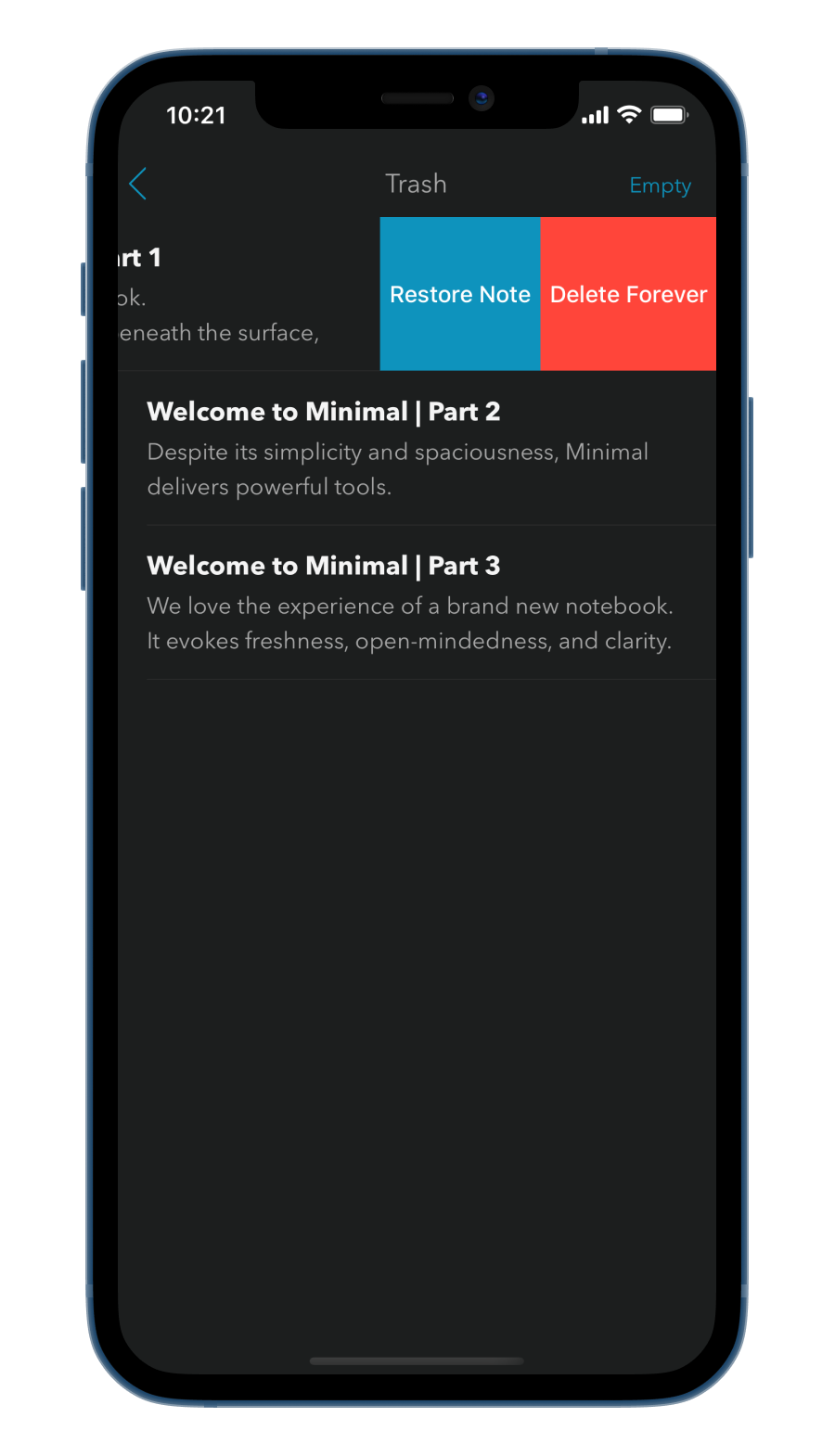 Share in Messages
Easily share notes through Minimal's iMessage app. The recipient can view the note, import it, and edit it.

(Fully collaborative notes are on our roadmap.)
---
Cloud Sync
Minimal is beautifully designed for iPhone, iPad, Apple Watch, and Mac. Notes automatically sync across all connected devices.

With features like Cloud Sync, Search, Handoff, and Siri, notes are easily accessible the moment you want them.
---
Import Notes
Easily import notes, text, and URLs from any app that supports sharing.

To add Minimal's share extension, open the share menu in any app that provides the system share function. In the row of apps, scroll to the end and tap 'More.' Find Minimal, turn it on, and use the handle on the right side to drag Minimal's share tool to the top. Voila – you're ready to start importing.
---
Export Notes
Export notes as HTML, PDF, TXT, Markdown, and more.

You might craft your notes within Minimal, but they can take on a life beyond the app. This means rich exports and easy sharing.
---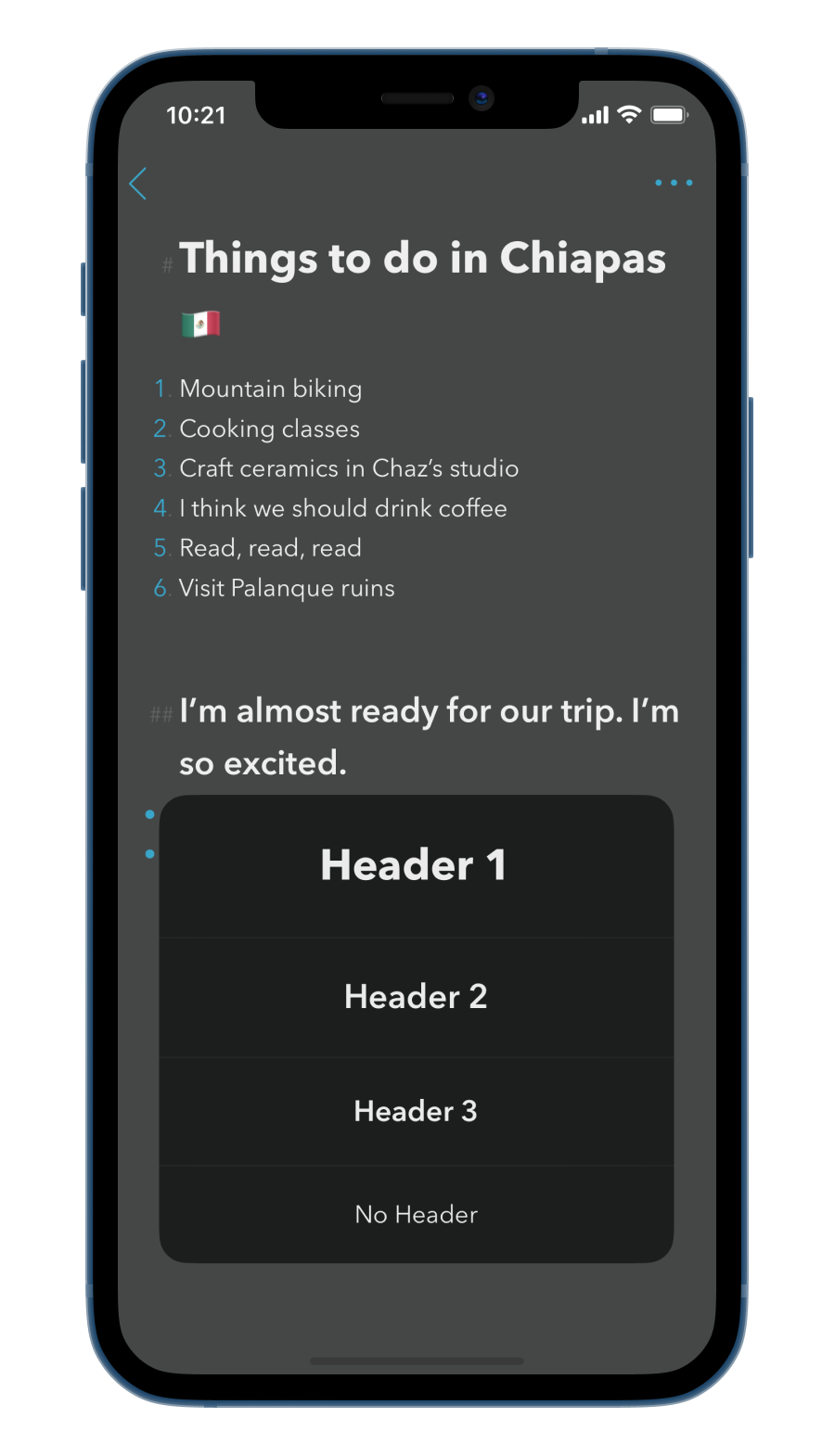 Beautiful Themes
We love light and dark backgrounds, vivid and subdued colors, and serif and sans serif fonts. We like it when our notes app feels personal, just like our favorite notebook.

Most of all, we appreciate when style serves both pragmatic functions and the need for beauty.
---
Pricing + Membership
Enjoy Minimal free for 1 month.

After the 1-month free trial, Minimal costs $1.99 per month or $19.99 per year. That's about one-third of what we expect to pay for high-quality stationary each year.

We make it very easy to cancel with a big button in settings.

(Pricing is for US customers and may vary by region.)

...

To join the beta program for free, download Minimal in Apple's TestFlight.
---
Minimal is inspired by meditation, architecture, and nature. Our goal is to help writers and doers fall in love with their notes app while actualizing their highest aspirations.
Join the beta through Apple's TestFlight.
Designed for iPhone, iPad, Mac, and Apple Watch.
Be simple. The lightest solution is often the best solution. Minimizing interdependencies is a win.

Be spacious. Empty space is empowering, reducing anxiety while allowing creative expression.

Be focused. There is often a single attribute that is most important by a large margin. Emphasize it.

Be abstract. Ask questions; find the true need + intent behind the expressed need + intent.

Context matters. More important than any element itself is the relationship between elements. A cohesive whole is not defined by its parts – it is defined by the interactions between its parts.

Honor constraints. Choose constraints that evoke thoughtfulness, exploration, and other desired outcomes.

Embrace the landscape. What environmental features or cultural trends can we harmonize with?

Real people. The design process revolves around the human experience. Internally, we do not refer to "users," but instead "notetakers" and "writers."

Shared experiences. Humans like being together – encourage and support sharing + collective encounters.

Slow solutions. Devise patient systems that get better as they age.

Tighten feedback loops. Test frequently in real environments. Build iteratively.

Be timeless. Invest in ideas and decisions that are relevant in many circumstances.

Be pragmatic. We don't need many tools – we need the right tool in the right place. The hierarchy of needs matters and should be consulted often.

Dissolve behavior. Make tools invisible.

Embrace imperfection. Oddities are beautiful, and a shipped product is always better than a perfect product.

Learn continuously. Every process – design or engineering – is in some way dedicated to heightened understanding.

Nature walks + negronis. Joyous work is more effective, sustainable, and beautiful than painful work.

Ship early. A manifesto, photograph, or mockup is the first version – publish it.

Ship often. Every feature exhibits attributes of a product – grant it the grace of a full design-build-ship cycle.

Embrace uncertainty. Be comfortable making investments with non-immediate and immeasurable returns.

Be contagious. Enable our best ideas to catch on.
---
This is a living document – write to us, help improve upon these ideas, and please do apply these principles in your own projects.
Minimal is made with love by Arthur Van Siclen in the Teton Valley, Idaho and Boulder, Colorado.
Contact us for help with Minimal | Notes.
Privacy + Terms
Your notes are yours, and only yours.

Your notes are only accessible to you through the Minimal app and iCloud. We never read, share, or collect the contents of your notes. Only you and those you share notes with have access to your notes.

Privacy is a right, and Minimal honors that right.

Minimal steers clear of most 3rd party code – particularly Google and Facebook. Other than Branch, only core Apple frameworks and in-house software make it into the Minimal app. You can learn about Branch at branch.io.

Minimal does not have a user database. We do gather very limited analytics, including anonymized usage analytics to make our services better, and in-app commerce events to ensure our ad channels are working.

One reason we chose to use iCloud for syncing is that it inherently honors privacy, and as Apple makes privacy improvements, Minimal automatically receives those improvements.

The Minimal website is built with carrd.co and any usage is subject to their privacy and terms. We neither added nor modified any privacy-related infrastructure to the Minimal website.

Email correspondence is retained to ensure quality and enable follow-up communications.

Minimal costs money.

We believe charging the customer directly is a beautiful business model that ties craftsmen and customers closer together. We don't sell data nor serve ads; instead, we charge a recurring fee for access to our apps.

Minimal's best features are members-only, costing $1.99 per month or $19.99 per year with an optional free trial. Subscriptions automatically renew, and your iTunes account is charged upon purchase. Cancel in iTunes account settings at least 24 hours before renewal. Free trials may be voided in event of purchase.

We do make it extremely easy to cancel free trials and paid subscriptions with a big button in the settings menu that takes you to the subscription management pane in your iTunes account settings.

Beta Testing

For beta testers, please be aware that we may make a change that permanently causes the loss of notes. For critically important notes, please have a backup stored elsewhere.

...

Last updated April 2, 2020
Timeless
Tetonia, Idaho
Byline is Minimal's newsletter. Each month we share compelling stories from every topic, curating the best the internet has to offer.


We're especially interested in the bridges between disciplines – this is where new, exciting things are just waiting to change our world.
---
---
Occasionally, we share team stories – like engineering accomplishments and delightful design decisions – but only if it's interesting.
---
Minimal is made with love by Arthur Van Siclen in the Teton Valley, Idaho and Boulder, Colorado.